Bryson DeChambeau's latest feat, Josh Allen's all-time dagger and Justin Bieber's controversial golf photos | This is the loop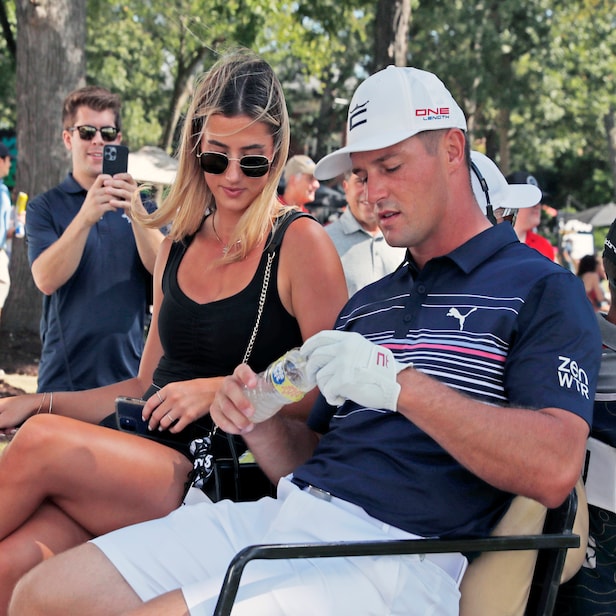 Welcome to another edition of The Grind, where we recently fell into an unprecedented tech trap involving a free trial of Apple TV in order to watch a Yankees game. Still considering the decision to sign up, I pressed the home button on my phone to get back to something else, but in doing so my fingerprint caused the payment to process. And then after trying "Severance" (Fantastic!) and "Ted Lasso" (Warming up to it!), I couldn't cancel within a week because I had to see those early seasons through to the end. Well done, Tim Cook. Good game. In the meantime, there was also a lot of golf to watch last week on the channels I already pay for. So let's talk about it before my "outie" makes another mistake that my "innie" won't remember.
Ryan Fox: The longtime New Zealander picked up a potentially career-changing win as he beat Rory McIlroy (and others) at the Home of Golf to claim the Alfred Dunhill Links Championship. Now, that's definitely something to tell your grandkids someday.
Thanks to a second DP World Tour title in 2022, Fox is now in 25th place in the Official World Golf Rankings. So there are perhaps many more stories to be told by this 35-year-old who seems to be just hitting his prime.
Mackenzie Hughes: Like clockwork, this guy will appear randomly and win a fall event. Well, if you count every six years like clockwork. But seriously, good job from Canada's short-game guru (how about those back-to-back highs and lows on 18?) knocking out soda-loving Sepp Straka in the playoffs to win the Sanderson Farms PGA Tour Championship and trophy. of coveted cock:
And good job on his part redeeming Canada's pride after Corey Conners and Taylor Pendrith went 0-8 combined at the Presidents Cup. Canadian golf! Return! Speaking of redemption stories…
Bryson De Chambeau: 2022 has been a tough year for the 2020 US Open champion, even though it has been a big year for his bank account. Bryson's two biggest headlines revolved around an embarrassing ping pong injury that required surgery and an even more embarrassing viral moment involving a gallery rope. But then Bryson did something this weekend that totally redeemed himself.
Ok, maybe not totally, but finishing second in the Professional Long Drivers Association World Championship is damn impressive. Even winner Martin Borgmeier mostly wanted to talk about DeChambeau, who finished second out of 128 competitors and missed from 20 yards with a 406-yard shot in the final. "This guy is a professional golfer and he's got these ball speed numbers… nobody's ever done that before! People don't realize how crazy that is!" A tip (Hogan) for you, Bryson.
Trevor Immelman's timing: Sure, hindsight is 20/20, but it's pretty remarkable that two guys who narrowly missed out on the international squad (Fox and Hughes) as captain's picks responded by winning their very next starts.
What could have been, Trevor. What could have been. On the good side, they are quite young so they will still be around in a few years.
Range Finder DQ: A pro named Blake Abercrombie played what might be the most expensive golf hole in history:
Of course, it's up to Blake not to double-check before you go, but isn't that rule a bit harsh? Wouldn't a two-stroke penalty have been enough? Also, what's the deal with using these things on the course? On the contrary, they speed up the game, especially on poorly marked golf courses. Well, unless your hands are shaking as much as mine. But seriously, what's stopping them from being legal across the board? Is the BIG CADDY lobby so powerful?
People ripping off Rory's hoodie: I don't know why, but apparently people had a problem with this hoodie that Rory McIlroy wore during Thursday's first round at the Dunhill Links. And not just the normal old heads who think wearing a hoodie on a golf course should be a federal crime. No, people didn't like this hoodie. This really sharp hoodie:
I know I'm no fashion expert, but I don't get it. I think this is good. And if anyone at Nike is reading this, I'm a psychic. Oh, and I'm also selling Rory's win at St. Andrews. After a second close call this year, it looks like it will never happen there for him.
The PGA Tour is heading to Vegas for the Shriners Children's Open, aka the one where the prize money will die at the tables. LIV Golf is also in action in Thailand. It's good to see that Patrick Reed is spending so much less time traveling and more time at home with his family. (Wait, can he sue me for writing this?)
Tournament Random Fact: Patrick Cantlay won in the 2017 playoffs after shooting nine under in windy conditions during regulation time. How unusual was that? The second-worst winning score on 72 holes at TPC Summerlin was Smylie Kaufman's 16-under score in 2015. And the winning score has been 20 under or less in 15 of 18 years, including four in a row. So, yeah, get ready for a shootout.
RANDOM PARIS PROP OF THE WEEK
—Bryson will become a full-time pilot in 2023: 100 million odds to 1
—Bryson to win this week in Thailand: odds 22 to 1 (actual odds)
—Nike is going to sell a LOT of these cute "Rory" hoodies: LOCK
PICTURE OF THE WEEK (CLEAN DIVISION)
The Hojgaard twins playing together and dressed as twins were quite a sight:
PICTURE OF THE WEEK ("DIRTY" DIVISION)
OMG Justin Bieber was caught doing…what every guy on the planet has done during a round of golf:
Big deal. I actually feel bad for Bieber because he has no privacy if the paparazzi will even follow him on the golf course like that. (I feel worse for the club member who's probably been doing damage control since.) That being said, I don't know why he had to pull his shorts down like that. That's what zippers are for, Biebs. Unless he's wearing some kind of cool golf shorts that don't even have a zipper. Anyway, move on, people! Nothing to see here!
VIRAL VIDEO OF THE WEEK (WITCHCRAFT DIVISION)
Now that's something to see. In what must be a first in St. Andrews history, Tommy Fleetwood managed to knock two golf balls into the Road Hole cup with one shot. Looked:
Unbelievable. You see something new every day in this game. Even on the Old(est) course of the game.
VIRAL VIDEO OF THE WEEK (FAILURE DIVISION)
We don't know what Emiliano Grillo was thinking here, but we hope he went after this club himself:
He's a man who has clearly spent time as Hideki Matsuyama's teammate in the Presidents Cup.
VIRAL VIDEO OF THE WEEK (WILDLIFE DIVISION)
Mark and Brenda Calcavecchia's garden in Highlands, North Carolina has attracted many visitors:
We'd call it a surprise, but he calls the place he lives "Bearadise."
THIS WEEK IN PUBLIC DISPLAYS OF AFFECTION
How about this amazing Masters-themed wedding that included everything from the groom's green jacket to the kids dressed as shopping carts to the custom-logo cake and dessert (Jim Nantz is also recording a video for the couple because that Jim Nantz is the best):
Talk about being married to the game. We just hope these logos were personalized enough not to warrant legal action by Augusta National.
THIS WEEK IN PUBLIC DISPLAYS OF RIDICULOUS
We thought we'd hit the peak of Bryson DeChambeau getting ripped for being roped in, but then Shane Lowry dragged DeChambeau for his rope "rematch" video and Justin Thomas piled in:
But that was nothing compared to what Buffalo Bills superstar QB Josh Allen did after Sunday's win over Baltimore:
It's a good thing that Bryson did so well in this long distance contest, because otherwise it's been a tough few weeks.
"Shit happens." — Rising LPGA star Maja Stark on getting a DQ for mistakenly using a new Ping driver who wasn't on the USGA's list of compliant clubs until the day after the tournament ended . Well said Maja. Because that's a pretty shitty reason to get disqualified from a tournament.
Congratulations to Charley Hull, who, like Mackenzie Hughes, ended a six-year (LPGA) winless drought by winning the LPGA Ascendant in Texas (she actually won her first tournament just a day before Hughes!) to Hughes, Hull hasn't restored Canadian golf pride because, well, she's British. … Congratulations to Alejandro Tosti not only for qualifying on Monday and making a check at the Sanderson Farms Championship, but also for doing so despite this crazy travel schedule:
Unfortunately, Tosti didn't qualify for the Shriners on Monday, but at least he can easily afford all that trip back now after writing that $32,000 check for finishing T-39 at Mississippi. … Speaking of Monday qualifying, Jared Sawada shot an 11-under 61 to earn his Thursday start time. Even for a low qualifying score on Monday, that's impressive. …And, finally, I'm very proud of myself and my wife for putting together this great storage unit for (some) children's toys:
What a beautiful piece of furniture. And yes, it's at Costco. And yes, those are the things you're passionate about when you're 40 with two kids.
RANDOM QUESTIONS TO THINK
What should I "build" next?
What should I watch next on Apple TV?
How much is my monthly cable/streaming bill?